Click here for Michael McCarthy's great walking tour map
of Rory related spots in Cork City
Cork Tour Map
Sistina Berlin passed along this link to the excellent Cork City Council
Official street map.
It includes a searchable street index.
Cork City Council Official Street Map
Places
Rory Gallagher Place at the entrance to
Paul Street Shopping Centre
This is a fine sculpture honoring Rory plus a plaque on the wall of the
building bears his name. it is within easy walking distance of the main shopping street in Cork. The sculpture features a guitar on one side and lyrics from Jinx on the other.
It was created by Cork resident Geraldine Creedon, a teen friend of Rory's.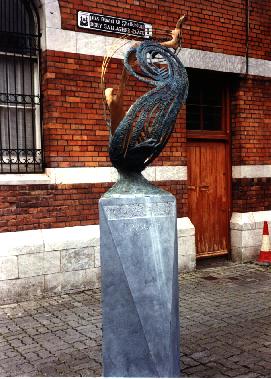 ---
Crowley's Music Centre
This is the shop that Rory bought THE Strat in. It is located on McCurtain Street. There was a plaque on the outside wall, but was removed because of a spelling error.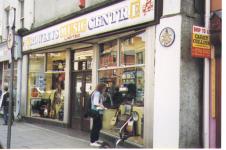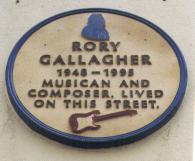 Thanks to Volkur Grupe for these pictures.
Below is the new plaque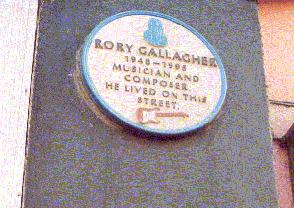 ---
Rory's Grave
Rory's grave is located in Ballincollig, a 15-20 minute ride from Cork. Bus service is available. The entrance for St. Oliver's Cemetery is before you enter the village on the left if you are coming from Cork. The cemetery is posted on the signpost along the road. As you enter the cemetery go past the little house on the left and turn to the right. You won't have any problem spotting Rory's grave. The Large brass headstone stands out among the black headstones that are on most graves in this small cemetery. At the grave, you'll see flowers and artifacts left by Rory fans. Your visit will be both emotional and memorable.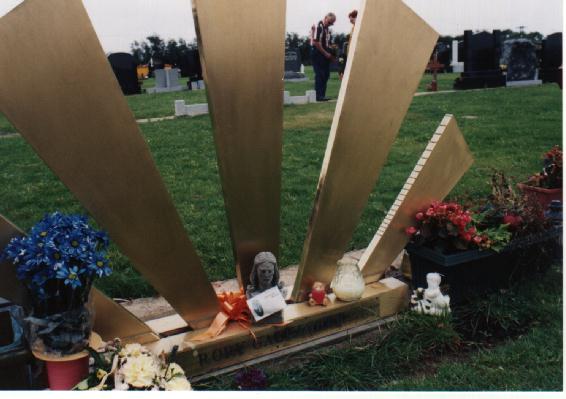 ---
---
Rory Gallagher Bar
( as fondly remembered)
The Rory Gallagher bar WAS located in Midleton in East Cork (about a half hour from the city of Cork). It was decorated with loads of Rory memorabilia and was the home for many wonderful Rory tribute shows. Unfortunately, the property was sold and the new owners have dropped the "Rory Bar" name and the tributes.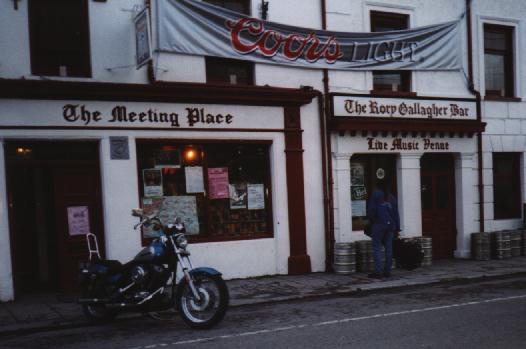 As it was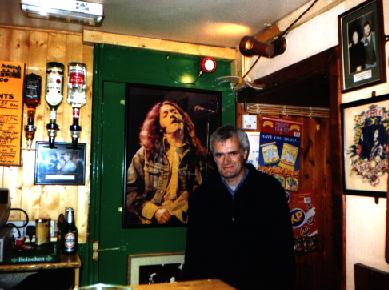 Owner Tony Moore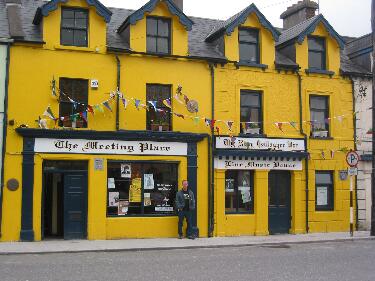 in 2002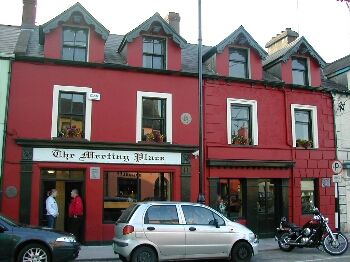 Today
In May 2004, the Rory memorabilia was relocated to TASTE-
The Rory Gallagher Cafe
see below
---
Rory Gallagher Corner
Rory Gallagher Corner is located in the Temple Bar section of Dublin. It is located at the National Photographic Archive building at the NorthWest corner entrance to Meeting House Square.
Below are 2 pictures of the area and a close up of the sign.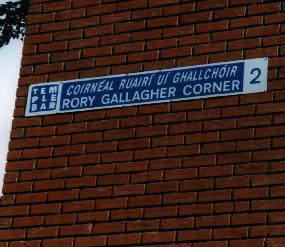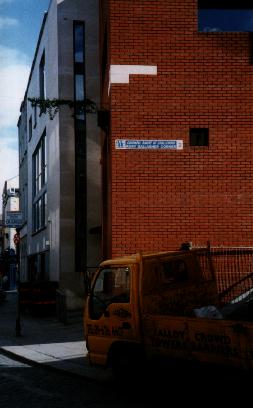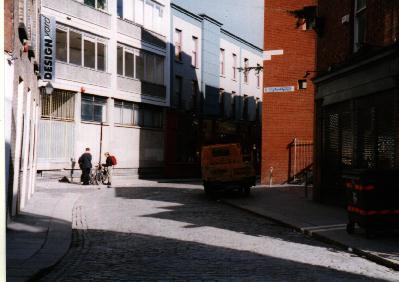 Thanks to a 'Continental Op' for passing on the information and the photos.
This Op sends along this information as well....
If you see this tackle shop....
you are VERY close!!!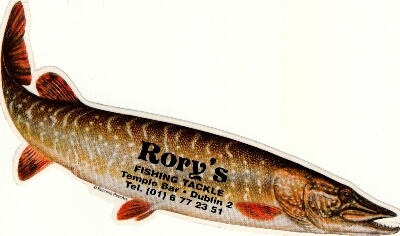 Wall Plaque at J.J. Smyth's in Dublin
Carmel Murphy passed along information that there is a nice wall plaque of Rory by Meath sculptor, Michael Keane at J.J.Smyth's Pub in Dublin. Live music is performed in the music bar upstairs and the Irish Blues Club meets there every Tuesday.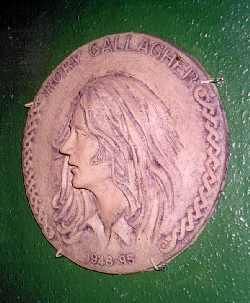 O'Brien's Sandwich Bar
The sandwich bar has a poster advertising a Rory gig, some photos and singles and a postcard written by Rory to the owner. Angela passes on that the shop is on Washington Street in Cork, near the Internet Cafe.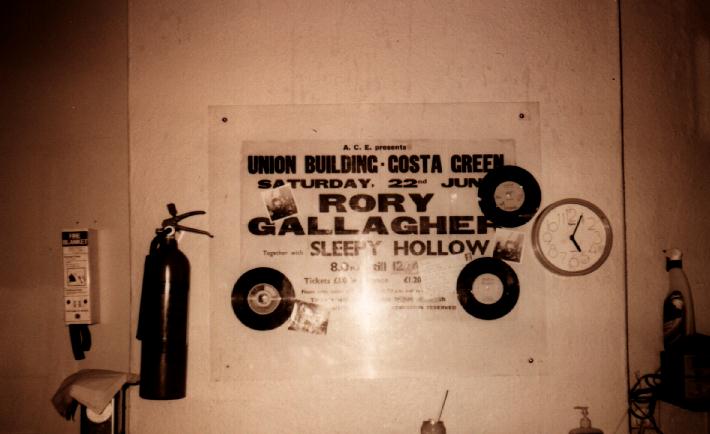 Macroom
Macroom was the home of the first open air festival in Ireland. Rory played to packed crowds at the Mountain Dew Festivals. The front of the castle remains and the field where Rory and the band performed remains surrounded by the hills
A nice little shop with quality craft items is in the town center. The owner grew up in the same area as Rory and has linked RoryON!! to the shop's' webpage. You can also see some of their products online below.
The Bird Cage
Carolyn & Jerh Cotter
The Bird Cage, North Square,
Macroom, Co. Cork,
Ireland
There is also a record shop called Gallagher's. A couple of Rory fans went in expecting to find Rory material. After being harassed, the shop owner did add some reissues and did sell them!
---
Rory Gallagher Music Room
Cork Library on Grande Parade
Photos by Angela Shaw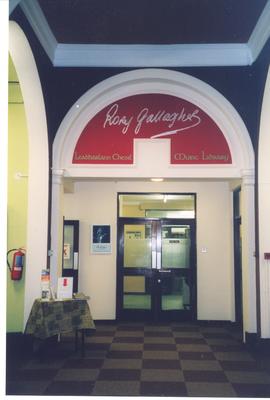 12/05/04 Angela Shaw sent this description to The Loop:
"Quite impressive. I expected to have to hunt for a miniscule plaque but there is a big arch way leading from the main library to the music room which has a sizeable Rory Gallagher signature logo on it, turn left into the little corridor and there is a display case with the 50th anniversary Strat signed by musicians who attended the Wembley 1996 shindig, I think, plus a couple of other display cases with articles and a presentation from IRMA (Irish Recorded Music Association) for selling in excess of 100,000 album in Ireland between 1996 and 2004."
Joachim Matz donates replica Strat to Library 06/08 click
---
Robert Gallinagh's Ballyshannon Webpage (click)
A nice webpage on the town where Rory was born. Hundred's of photos and some town history. The page also includes a section on the Rory Gallagher Festival held every June.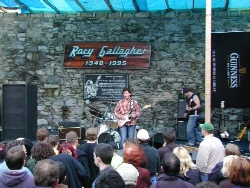 ---
Links
Jürgen Klein photos of Rory spots around Cork
Some excellent thumbnails of Rory sites around Cork. Click on the thumbnail for full size images

Current weather at Shannon Airport
This site gives current weather condition at the Shannon Airport from the US National Weather Service. Handy for planning what to jam into those suitcases. The site is great for checking your home or travel weather also.

Around Cork
7, Ferncliffe B&B

A very nice B&B owned by a very nice lady, Breeda Higgins
Bellevue Pk. St.Lukes, Cork City 021-0458963 1KM to City Centre
Bru Hostel
Hey Rory Fan,


We regularly get visitors staying with us in the Bru Hostel MacCurtain st looking for Rory's sites around the place.
Perhaps you can link us to your web site and we'll keep pointing them in the right direction. Good luck, Ash
Shandon Taxi Cabs

42 McCurtain Street 4502255
24 hour service getting you around Cork quickly
The Universal Currency Converter
This is a useful utility to check the conversions rate from any currency to any other.
International Phone Dialing Codes
Be Our Guest
A terrific site to choose your accommodations. It has a search function that allows you to choose what you need for your stay, then identifies hotels within specific counties with those attributes. Pictures and details are given with each hotel.
Ireland resources - ireland related news, books and regional resources.

Interactive Travel Guide to Ireland
This a great site loaded with pictures and information. The site is searchable. It also gives suggested itineraries for specific areas. TONS of great information on accommodations , etc.!!!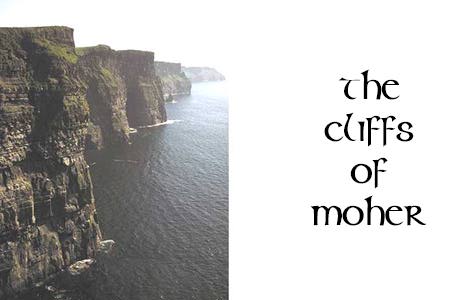 Cork Guide
Nice guide to nearly anything in the Cork area. Accommodations, entertainment, food, attractions, shopping, weather.....
Searchable
Explore Ireland
Broken down by county. Basic info for each

---
This page is under construction. Please feel free to pass along any more useful Rorytravel information. I'd especially be glad to add more information on those Rory places.
Thanks to Joyce and Perry for some of the Ireland pics posted here
email
roryfan@comcast.net